52 weeks in the year represent 52 seasons in Edible Alchemy's books! 
We pull all stops for you at this unique dinner experience and dish out everything we have preserved and foraged to present unique taste combinations in an educational, multi-course dinner format.
Our Concept
We conceptualized this format as part of our ever-evolving explorations with the three dimensions of culinary composition: 
Raw foods

Cooked foods 

Fermented foods
Each dinner is an experience in its own right, a 3-dimensional experience if you will. By merging storytelling, food chemistry, and of course, mouthwatering dishes, we invite you to embark on a one-of-a-kind journey through mealtime and space. 
Our Ingredients
A myriad mix of ingredients must be combined in order for our complex alchemical formulae to make our guests' mouths water. Our secret ingredients' sources are as diverse as the meals they help us create:
Past Menus Included:
Kiekeboshi

—umeboshi from Kiekebush aka locally foraged,

salted-dried-fermented plums.

The Frankenburger

—Grünkern risotto cooked in miso broth with microgreens from our very own rooftop, Japanese Onaka heritage yogurt culture blended with self-made mustard and tahini, and a slice of our Cretan salted lemons!

Cornelius K. Nippon

—

sourdough

slices topped with white-chi, pink carrots and radish, smoked kraut, fennel cauliflower leaf kraut, and of course our infamous miso-butter and kim-cheeZe.

Princess Yakòn and Her Irreducible Pumpkin

—

yakòn fruit

from

Prinzessinnengarten

marinated in our very own kombucha reduction. 

Sloe Cultured Elders with Coffee Kombucha

—

crème fraiche from Positively Probiotic, sweetened with elderflower syrup from this year's harvest, sloe-berries picked in Ober-Lauda soaked in gin since October 2017, blackened pear, sweet tiger-nuts from the garden, The Kings grape jelly, and a tagettes flower garnish.

Living Moscow Mules, White Bearded Sage

&

Sea Buckthorn Water Kefir

—a string of n

aturally carbonated brews and foraged infusions!
Need we say more?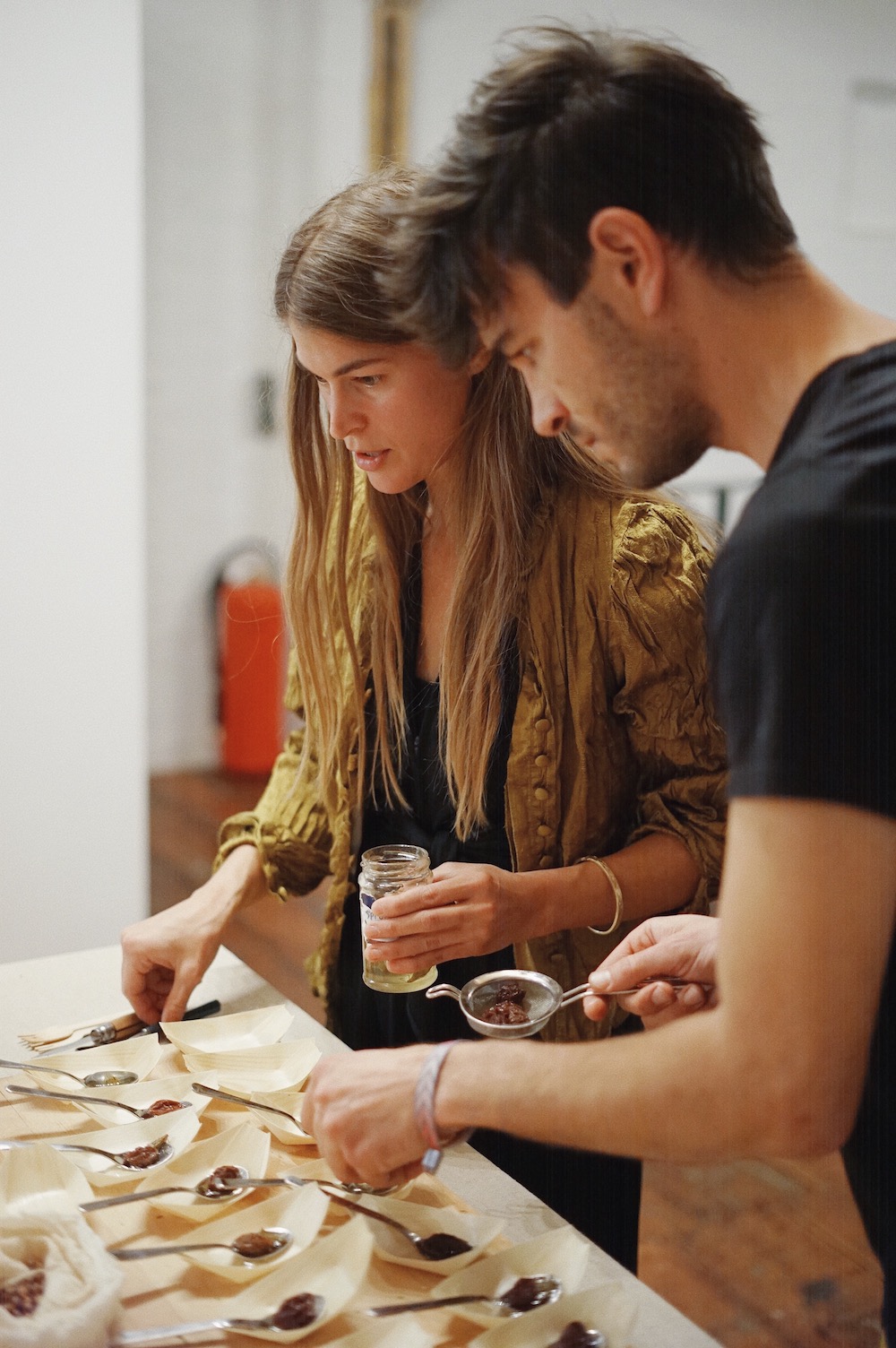 What to Expect in a Nutshell
A custom, multi-course menu—open your mind, tantalise your taste buds and nourish your microbes.
A feast for the senses—get ready to taste, feel, smell, touch and even hear foods and ferments as they unfold in the room.
Expect the unexpected—we know you're curious, but sit back, relax and go with the flow; everything will reveal itself to you in due course.
The opportunity to try new things—have you ever heard of Zwetschgen (Damask plumb) Umeboshi? Or tasted miso caramel? Neither had we until we concocted them in our culinary lab. For every ferment you know, we guarantee there will be something on the table you've never set on your tastebuds before.
An edutaining multi-cultural experience—we've travelled the world to broaden our horizons, expand our knowledge base, and import cultural techniques and bacteria; each dish comes with its own special serving of microbial facts and culinary insights.
Food for thought—when you leave the dinner, not only will you feel satiated (and potentially have to roll all the way home), but your mind and microbiome will also feel enriched.
Host a Special Occasion
Your birthday is coming up, and you want to throw a one-of-a-kind bash?  You have a close-knit team and are looking for an unforgettable bonding experience? Your circle of friends comprises die-hard foodies who are always up for trying new things? You want your next family reunion to be one they'll never forget?
Get in touch with us to inquire about hosting a private 52 Seasons Dinner! We'd be delighted to design a tailor-made experience that suits your needs.
Plan a private 52 Seasons Dinner with us
Alternatively, you're also welcome to join an upcoming 52 Seasons Dinner. Submit your request here to be informed about the next event. Be quick! We only host this event publicly once or twice a year, and spots are always limited. 
First come, first serve.
Join our exclusive 52 Seasons mailing list
Photography © Katleen Roggeman