Babka is traditionally a sweet braided yeast bread originated from the Jewish communities of Eastern Europe. Here we take the goodness of Babka and twist the twisted bread once more to make it a) savory and b) with sourdough rather than packaged yeast. 
Learn more about the benefits of sourdough via our online sourdough course.
As sourdough take more time than industrial yeast bread recipes, we have a two day bake plan. At Edible Alchemy we use a lot of our local flora to incorporate into our food and here we use the deliciousness of nettle pesto made with local sunflower seeds for the filling. Feel free to switch it up and add your own filling and let us know in the comments!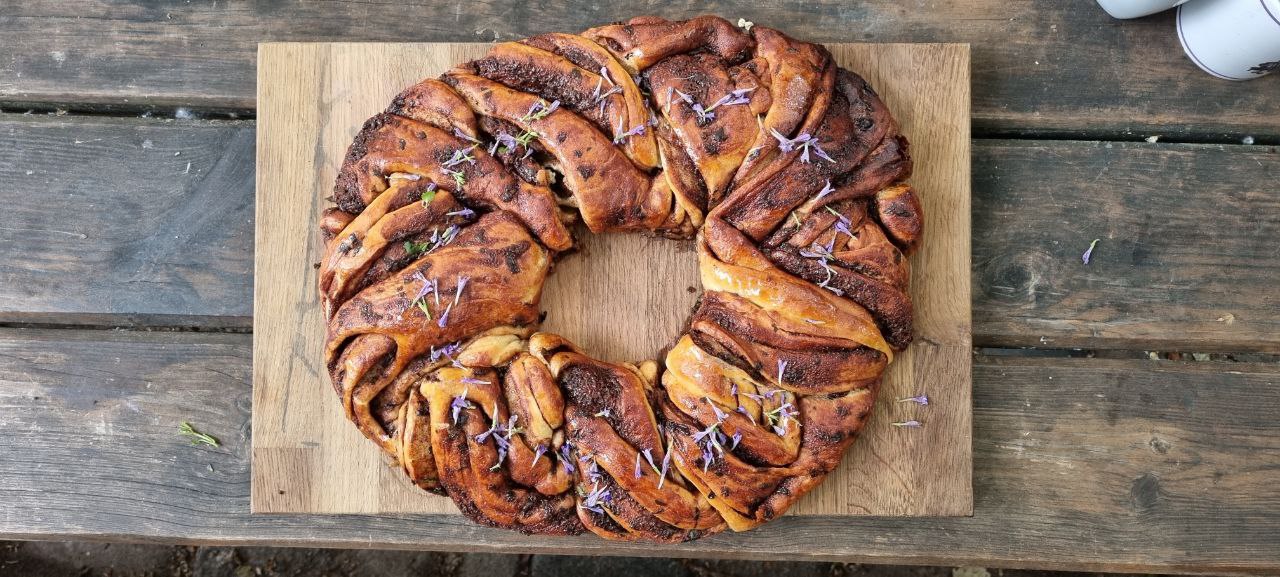 DAY 1
STARTER
Ingredients 
90g sourdough 
90g water 
90g flour
Instructions
Combine ingredients in a medium-sized container and stir with a non-metal utensil until homogenous. Cover with a paper towel/cheesecloth and a rubber band. Let rise for 6-9hrs or until doubled. 
NETTLE PESTO
Ingredients 
300g nettle leaves 
180g extra-virgin olive oil 
160g jar of sun-dried tomatoes 
100g toasted sunflower seeds 
80g water
Instructions 
Combine ingredients with a hand blender until you get a very thick paste, you may not need the water. Add the sunflower seeds last. Store in the fridge.
DOUGH 
Ingredients 
300g flour (450-550W)
40g sugar
8g salt
180ml unsweetened non-dairy beverage 
80 vegan butter spread
Instructions 
Place the dry ingredients in a large bowl and mix to combine. Add the lukewarm milk and starter, begin kneading. Once smooth, add the softened butter. 

Continue to knead for about 10 minutes, or until the dough is smooth and elastic. It will start out very liquidy, but do not add more flour. You are done when the dough pulls away from the bowl. Place in a lightly oiled bowl, cover and place in the fridge overnight.
DAY 2
BABKA
Ingredients 
flour (for sprinkling work surface)
200g vegan butter spread
1. The next day, the dough should have doubled. If not, leave at room temperature for 2-3 hours. 
Simple loaf: Roll out on a lightly floured surface to a rectangle (30x40cm). Spread the nettle pesto. Roll the dough up tightly from one of the long edges. Cut in half lengthwise, exposing the filling. Twist the two halves together into a braid. Grease a 12x22cm loaf tin and line it with parchment paper. Place babka in the tin.
Wreath: Roll out half of the dough into a thin square (60x60cm). Spread the nettle pesto. Roll the dough up tightly. Cut into four pieces, and cut each piece lengthwise. On a baking tray with parchment paper, begin forming your wreath. Place the end of one piece under the middle of the previous one, and the end of the previous one will be tucked under the middle of the next one.
2. Loosely cover with plastic wrap for two hours. Preheat oven to 180C/160C fan, gas mark 4. Bake for 40-50 minutes, interior temp 90C. 
3. Remove from the oven and brush generously with melted butter. Let cool completely before slicing. 
Let us know how your Babka came out! 
More recipes like this one with video and audio instructions on our online sourdough course.